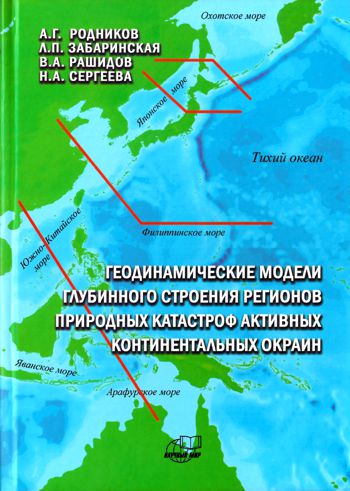 Rodnikov A.G., Zabarinskaya L.P., Rashidov V.A., Sergeyeva N.A.

GEODYNAMIC MODELS OF THE DEEP STRUCTURE BENEATH THE NATURAL DISASTER REGIONS OF ACTIVE CONTINENTAL MARGINS (in Russian)


Moscow: Scientific World, 2014. – 172 đ.: ill. ISBN 978-5-91522-392-8

Numerous natural disasters, which have occurred in recent years, require the development of a new approach in research of modern geological processes.
One of the directions of research in this domain of science includes creation of geodynamic models of the crust and upper mantle structure using the results from geological and geophysical studies.
The area of research includes the transition zone between the Eurasian continent and the Pacific Ocean. Geodynamic models of deep structure were constructed for the Sea of Okhotsk, Sea of Japan, Philippine Sea and South China Sea regions, characterized by high seismicity, frequent volcanic eruptions and other natural hazards. The construction of these geodynamic models was based on the results of geological, geomorphological, seismic, seismological, petrological, geothermal, magnetic, electromagnetic and gravimetric researches; in addition the velocities of GPS stations and paleotectonic reconstruction were used for this.
The development of geodynamic models of the deep structure of natural disaster regions can make a significant contribution to the general program studying the deep structure and geodynamic situation of the research areas, essential for a further assess¬ment of risks in this or that zone and development of recommendations to the population on actions in case of natural hazards.