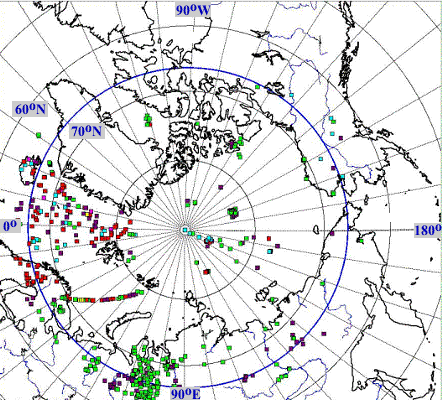 Arctic Heat Flow according to "The New Global Heat Flow Compilation - 1991", by Pollack H. N., Hurter S. J., and Johnson J. R.
Subject Publications collected in the WDC for SEP:
Jessop A.M., Hobart M.A., Sclater J.G.
The World Heat Flow Data Collection - 1975.- Geothermal Service of Canada Geothermal Series, N5, Ottawa, Canada, 1976.


Judge A., Jessop A.
Heat Flow North of 60 N.- In: Arctic Geophysical Review (J.F.Sweeney, ed.). Publications of the Earth Physics Branch, v.45, N 4, Ottawa, Canada, 1978, pp.25-33.


Grim P.J.
Terrestrial Heat Flow Data. Map, Multicolour,- World Data Center A for Solid Earth Geophysics, Boulder, USA, 1976.